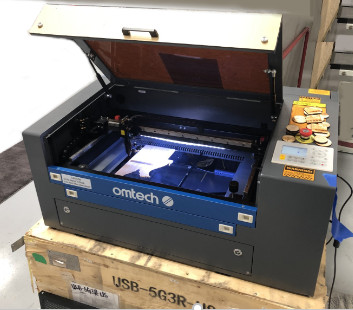 Below are common questions and reputable review sources with customer feedack about OMtech laser machine performance. Are OMtech Laser cutters any good?
Look at the lineup of user feedback and forum insights below and decide for yourself. Overall feedback for this company is mixed. The general consensus is machines are attractive to first time laser buyers and hobbyists due to their up front price point. But, they may not be equipped for the precision or productivity demands of a commercial machine shop.
Mostly known for Co2 laser engravers starting at $499, Omtech also sells small fiber marking machines as well.
As always please leave a comment below if you have insight or first hand experience with Om Tech Laser.
Where are OMTech laser cutters manufactured?
OMtech (formerly Orion Laser) has its distribution warehouse in Anaheim, CA while their laser machines are made and shipped from China.
Facebook Reviews
https://www.facebook.com/omtechlaser/reviews
TrustPilot Reviews
https://www.trustpilot.com/review/omtechlaser.com
Walmart Reviews
https://www.walmart.com/ip/OMTech-50W-CO2-Laser-Engraving-Machine-Engraver-Cutter-with-Auxiliary-Rotary/117873625
Amazon Reviews
https://tinyurl.com/omtech-ratings-on-Amazon
Google Reviews
https://tinyurl.com/omtech-reviews-Google
Reddit Reviews
https://www.reddit.com/r/lasercutting/comments/nvch71/reviews_of_omtech_lasers/