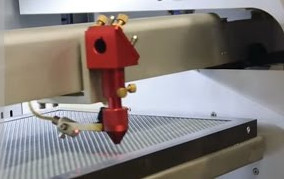 If you are looking to review Laguna Tools newest lasers you can find the latest ratings and feedback here.  Currently Laguna has multiple dealer locations in the North East of the Untied States as well is Irvine, CA. They import and resell CNC machines including routers, plasma, accessories along with traditional tools and now co2 lasers.  See links below for helpful insight.   The laser machines are designed, manufactured, built, assembled, and shipped from China and shipped to their California location.
Forum reviews from owners:
Earlier attempt to selling laser co2 laser machines
http://www.woodworkingnetwork.com/wood-market-trends/woodworking-industry-trends-press-releases/iwf_laguna_tools_introduces_co2_laser_cuttingengraving_machine_127780018.html
Current laser supplier:
My Experience with Laguna Tools, Inc. and Canadian Woodworker Ltd.
COMMENTS:
"Laser machines are not what I hoped. The pics and posted cutting parameters are impressive up front but the SmartShop EC 100 watt tube just does not cut through wood at a depth that I thought it would even with sharp alignment. Not even close! I wouldn't recommend their co2 lasers." 
Sawmill Creek review
http://www.sawmillcreek.org/showthread.php?255675-Laguna-Tools-CNC-Laser-Cutter
http://www.sawmillcreek.org/showthread.php?253197-Laguna-lasers
Third Party Reporting:
https://www.mmtoolparts.com/store/blog/laguna-tools-review-ultimate-guide-laguna-tools-brand-equipment-makes-legendary/
My Experience with Laguna Tools, Inc. and Canadian Woodworker Ltd.
http://www.ripoffreport.com/reports/laguna-tools/irvine-california-92614/laguna-tools-worst-nightmare-of-my-life-irvine-california-1078444
Dealer locations:
https://lagunatools.com/dealer-locator/
Facebook reviews:
https://www.facebook.com/lagunatools/
Early reviews:
http://lumberjocks.com/topics/38576
Amazon:
https://www.amazon.com/Laguna-Tools-MBAND144200-SUV-Bandsaw/product-reviews/B00F3VAWHM
On-Site CNC, Bandsaw, Lathe, Reviews:
http://lagunatools.com/why/love-letters/
Google+
https://plus.google.com/116558795524534766084
If you have real operator feedback or experience with Laguna Tools laser cutters please leave a comment below for the benefit of the community.